(Back to Slider Homepage | Older News Archive)
---
17 Dec 2007
Sliders - Seasons 4 on DVD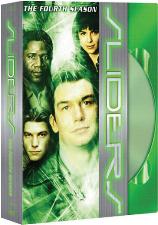 The 22 episodes of Sliders - Season 4 will arrive on March 25th. Jerry O'Connell, Cleavant Derricks and Kari Wuhrer consist of the primary cast now, after Sabrina Lloyd ("Wade") was released from the show (which moved from Fox to the Sci Fi Channel beginning with this season). This season mainly consisted of efforts to free Earth Prime from control by the Kromaggs. It would be Jerry O'Connell's final year on the show.This 5-DVD set (all of them single-sided) will cost $59.98 SRP. Running time is 994 minutes, with video in Full Frame 1.33: 1, and audio in English Dolby Digital 2.0. There will also be English subtitles present as well. Package art isn't available yet, nor are extras (if any).
Thanks to Jim Hall for this info.
Source: http://www.tvshowsondvd.com
---
13 Dec 2006
Rebecca Romijn & Jerry O'Connell to Marry - FINALLY!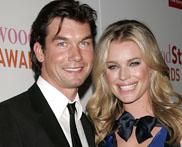 After a 15-month engagement, Rebecca Romijn and Jerry O'Connell finally agreed to hold an intimate wedding at their ranch near L.A. on Jan. 6, friends tell Star! The X-Men: The Last Stand star, 34, who was married to ER's John Stamos for almost six years, convinced her two-year younger fiancÚ to exchange vows at their Wagon Wheel Ranch before just 20 close friends and family. "For Jerry, this will be his first marriage and he wanted to make it a big deal, but Rebecca held her ground," says a friend. Nevertheless, to keep the groom-to-be happy, "Rebecca agreed to let Jerry plan a party a few weeks after the wedding where everyone can get crazy!" adds another buddy.
*Special thanks to Blinker for this info*


---
09 Dec 2006
Sliders Season 1 and 2 on iTunes
It appears that Sliders, Season 1 and 2, is now available via Apples iTunes which is listed under Scifi Channel's "NBC Scifi Classics" section. Cost $1.99 per episode. $16.99 for season 1. $24.99 for season 2. Thanks to Informant for this information.
---
20 Oct 2006
Sci-fi Channel gives the axe to its Sliders Board
On October 20, 2006, after completing a message board upgrade, the Scifi Channel has decided to remove the Sliders Board along with other classic TV shows as well. (i.e Lexx, Dark Shadows, etc.). Currently the following Sliders boards are still active: Steve Parallel World boards, Dimension of Continuity boards and Earthprime's boards.
---
23 April 2006
Sliders Writer/Producer/Director "David Peckinpah" has passed away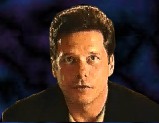 David Ernest Peckinpah (born September 5, 1951 - died April 23, 2006) was a television writer, producer and director. He died of a heart attack in Vancouver, British Columbia. David Peckinpah is the nephew of Sam Peckinpah. David Peckinpah's work on Sliders has been controversial. Several fans on JumptheShark.com's page for Sliders cite Peckinpah's involvement as the moment when the show jumped the shark. On the other hand, Keith Damron, who worked with Peckinpah on Sliders, said of him on June 29, 1999, "David is a great guy to work for and professional to the core."
---
20 September 2005
Rebecca Romijn and Jerry O'Connell Engaged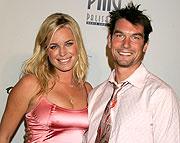 Model-actress Rebecca Romijn and actor Jerry O'Connell are engaged, their reps confirm to PEOPLE Magazine. The pair were engaged Saturday in New York. "We couldn't be happier and are looking forward to the next chapter of our lives," the couple said in a joint statement. Romijn, 32, and O'Connell, 31, were first spotted together last September in Los Angeles, taking in an Al Green concert and checking out a local deli, PEOPLE reported at the time. "I've had a great year with my boyfriend: I fell in love and had a lot of romantic dinners," Romijn told the magazine in July. The actress was married to Full House star John Stamos for 5 1/2 years. They split up in April 2004, and their divorce was finalized in March. O'Connell, 31, stars in the NBC medical crime drama, Crossing Jordan. He also has appeared in the films Stand by Me and Jerry Maguire. Romijn's credits include the X-Men franchise, and she worked with O'Connell on two new movies: Man About Town and The Alibi.
---
19 July 2005
Sliders - Seasons 3 on DVD
Universal Studios Home Video have announced the Region 1 DVD release of Sliders: The Third Season for 19th July 2005 priced at $59.98 SRP. The adventures in parallel worlds continue with Season 3 of this science-fiction TV series. 3 DVD18 discs and 1 DVD9 house all 25 episodes from Season 3 presented in Full Frame with English Mono audio and optional English, French and Spanish subtitles. Bonus features include a gag reel and bonus episodes from Cleopatra 2525 and Earth 2.

---
12 Apr 2004
Sliders - Seasons 1 & 2 DVDs are coming!
Along with Knight Rider, Universal has announced the long-awaited release of Sliders for release. This show was first mentioned in a Video Business article we reported on back in August, 2002. This 6 disc set will contain the 23 episodes that make up the first and second seasons of the series and will be released on August 3rd, the same day as Knight Rider. Details about the set are slim right now, but we can tell you it will be a 6 disc set will Full Frame (1.33:1) video. The SRP for the set is $89.98, $30 higher than most of the other season sets we've seen released by Universal.

We'll keep you up to date when the special features and artwork are announced.
Source: http://www.tvshowsondvd.com
---
19 Nov 2002
John Rhys-Davies recovering well after operation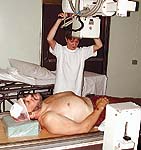 "John Rhys Davies, after a multi-hour operation, performed on friday night by dr Ivan Kirin, has been placed at the Trauma ward of the Rijeka General Hospital and, according to dr Stipe Bezevan, is feeling well.

The actor, famous for his parts in the movies "Victor, Victoria", "Raiders of the lost Ark" and his latest role of the dwarf Gimli in the cult movie "The Lord of the Rings", as well as the TV series "War and memories" and "Shogun", will be one of the most famous patients of the Rijeka Hospital for the next 8 to 10 days, dr. Kirin told us. In addition to a severe arm fracture, he has a large cut on his head, which caused substantial bleeding, but, fortunately, his scull is not fractured. We found out from very reliable sources that J. R. Davies is pleased with his treatment by the doctors and the medical staff, although, doubting the capabilities of our medical experts, immediately after the accident he demanded to be transfered for operation into one of the American hospitals.

While one of the musketeers is forced to rest at the Rijeka Hospital, the filming of "La Femme Musketeer" has been continued on location in Pazin, we have been confirmed in a phonecall by one of the leading members of the Croatian part of the crew, Hrvoje Matasovic. The set knocked over by strong wind which caused injury to J. R. Davies has been repaired, and until the injured musketeer is feeling better, they will be filming scenes which don't require his presence. ..."
Webmaster comment: Myself along with many other Sliders Fans around the world wish JRD a speedy recovery!!
Source: theonering.net
---
02 Sep 2002
Universal Studios is turning on the tv for DVD
Joining the parade of studios exploiting their libraries of TV series on DVD, Universal Studios Home Video has announced that it is preparing DVDs of Law & Order and Baretta for release in October. The latter has extra heat given the high-profile murder case involving Baretta star Robert Blake.

In an indication of the pressure to capitalize on this hot new market that has seen everything from The Jeffersons to The Simpsons come to DVD, Universal took the unusual step Wednesday of announcing eight other series that it is hurriedly preparing for DVD.

Those series include science-fiction/science-fantasy series Battlestar Galactica, Quantum Leap, Earth: The Final Conflict and Sliders--which fit into the mold of series such as Star Trek, The X-Files, and Buffy the Vampire Slayer that have performed so well on DVD--and classics such as Dragnet, Magnum P.I. and The Rockford Files. That category also has shown strong sales on DVD with I Love Lucy, M*A*S*H and The Mary Tyler Moore Show.

Universal is also working on its popular 1970s series Emergency, but there was no mention as yet of Universal series that were popular in syndicated reruns for decades such as Leave It to Beaver, Bewitched or Columbo.

A six-disc set of Law & Order: The First Season, starring Michael Moriarty, will offer 22 episodes with an introduction by producer Dick Wolf on Oct. 15 (prebook Sept. 10) at a suggested retail price of $99.98 (minimum advertised price of $79.95).

Debuting on Oct. 29 (prebook Sept. 24) are Baretta: Season One ($39.98 SRP, $29.95 MAP), a three-disc set featuring 13 episodes in their entirety and in original broadcast order, and Best of Baretta ($19.98 SRP), including the little-seen series pilot and two "bonus" episodes featuring the music of Sammy Davis Jr.

Davis wrote and performed the theme song, "Keep Your Eye on the Sparrow."
Source: Video Business
*Thanks to Temporal Flux for this info*
---
03 Aug 2002
More Sliders Reruns on the Sci-fi Channel :)
Sliders will again be returning to the Scifi Channel beginning in September. The following is a tentative
episode listing. (This can change a moments notice!):
Times are Eastern. Check for your area.

02-SEP-02 7:00 PM IN DINO VERITAS
03-SEP-02 7:00 PM THE EXODUS -PART 1
04-SEP-02 7:00 PM THE EXODUS -PART 2
05-SEP-02 7:00 PM STOKER

23-SEP-02 1:00 PM PILOT -PT 1
24-SEP-02 1:00 PM PILOT -PT 2
25-SEP-02 1:00 PM SUMMER OF LOVE
26-SEP-02 1:00 PM PRINCE OF WAILS
27-SEP-02 1:00 PM FEVER
30-SEP-02 1:00 PM LAST DAYS
---
02 Jun 2002
Sliders Reruns Return on the Sci-fi Channel
After a year of no Sliders reruns on the Sci-fi Channel (12 Jun 01 last rerun date), the Sci-fi Channel will
again be airing reruns nightly starting July 22, 7pm E.S.T. Knowing the Sci-fi Channel's scheduling this can
change at a moments notice. To check out the Sci-fi Channel's Schedule Bot for Sliders go here.
---
16 Dec 2001
John Rhys-Davies chat

A John Rhys-Davies chat will be held 17 December 2001 at 9PM (E.S.T) on www.scifi.com/chat.
---
03 Jul 2001
John Rhys-Davies at DragonCon 2001

John Rhys-Davies will be appearing at this years DragonCon 2001 Science fiction convention located at Atlanta Georgia.
Date: September 01 at 2:30pm. For more information visit this link and this link.
---
12 Apr 2001
Cleavant Derricks releases a never before seen video of "Cry Like a Man"
As a special thanks to everyone for their support and encouragement for his CD "Beginnings," Cleavant has presented the full version of "Cry Like a Man." video at his website. This never-before-seen video is the same version that was shown in limited cuts during the pilot episode of Sliders. To see the video's home page click on the image below!!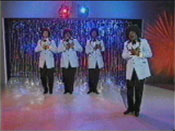 ---
28 Mar 2001
Cleavant Derricks at the Grand Slam Convention
Cleavant Derricks will be in Pasadena at the Grand Slam Convention signing copies of his cd "Beginnings" and talking with the fans. Dates/time: Saturday March 31 and Sunday Apr 01, 2001 - 12pm - 7pm. Location: 300 E. Green St. Pasadena, Ca .
---
02 Feb 2001
Zoe McLellan (Season 3 Villian - Logan St. Clair) at Megacon 2001
Zoe McLellan, who starred in the Season 3 episode "Double Cross", will appear at this years Mega Convention located at Orange County Convention Center, Orland Florida. Dates for the convention are March 2 - 4. Go here for more information.
---
22 Jun 2000
Bonnie Hammer, Executive Vice President & General Manager
of Sci-fi, Chat

A Bonnie Hammer chat was held 22 June 2000 on www.scifi.com/chat. To see the full version of the chat transcript,
go Here.
---
23 April 2000
Sliders Movie mentioned in print
The following article was taken from the Scifi Magazine June 2000 edition. Click on thumbnail to see larger
pic.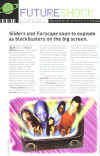 (Thanks to Temporal Flux for making me aware of this article!)
---
01 March 2000
O'Connell To Discuss Sliders Movie
(Taken from the Scifiwire)
Jerry O'Connell, who starred in The SCI FI Channel series Sliders, told SCI FI Wire that he is scheduled to meet the week of Mar. 6 with series co-creator Robert K. Weiss to discuss the possibility of making a feature film based on the show. It would be O'Connell's first association with the series since he left it after the fourth season.
Speaking at a press event to promote his upcoming movie Mission to Mars, O'Connell said, "I'm meeting with [Weiss] next week for a possible Sliders movie. A feature film. ... [It] should be pretty fun." Weiss co-created the popular SF series in 1995 with Tracy Torme.
O'Connell, who played the lead character Quinn Mallory, said he lost touch with the show since he left, owing in part to what he called a contractual dispute between him and Studios USA, which owns the show. It's part of the reason he would decline to take part in another television series based on Sliders, O'Connell said. Studios USA had no comment on the dispute. Studios USA is owned by USA Networks, which also owns The SCI FI Channel.
In Mission to Mars, O'Connell plays astronaut Phil Ohlmyer, who takes part in a rescue mission to the red planet. "It's so much more fun to be an astronaut," he said of his role. "You put on that spacesuit every day. You have the American flag over one arm. You've got a NASA patch on another. That's like every red-blooded American's dream come true. It was a real pleasure. I was like a four-year-old again getting into that suit. I loved it."
---
03 Feb 2000
Sliders Final Episode "The Seer"
(Taken from the Scifiwire)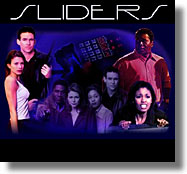 In the second-to-last episode of Sliders, as the evil Dr. Geiger (Peter Jurasik) lay dying, he gave the intrepid dimension-hoppers the coordinates to Earth Prime. And so, as this final episode opens, the sliders prepare to make the jump, even though Rembrandt is the only native of Earth Prime left in the group. Maggie's Earth was destroyed, and Mallory and Diana have vowed to stick with the others and help fight the Kromaggs, who now occupy Earth Prime. They leap into the wormhole (flash flash) and tumble out to find--

A cheering crowd. A happy throng carrying signs that say things like, "Welcome Sliders," "Mallory Is the Best," and "Please Stay Here." The bemused and befuddled sliders are greeted with speeches while the police restrain the eager crowd; then they are ushered off to the opulent home of Mark LeBeau, better known as the Seer.

The Seer, it turns out, has for years been having psychic visions of the sliders, and he's followed their trials and travails from the beginning. This is why the sliders were expected--he knew they'd be coming to this Earth. Through his paintings and writings, a fanatical fascination with the sliders arose, which became an inspiring force when the Kromaggs invaded. The Kromaggs were repelled thanks to a Kromagg-killing virus that the local scientists developed.

All fine and good, say the sliders, but they are anxious to journey on to Earth Prime and take on the Kromaggs there, and by the way, that virus sure would come in handy with the fight. The Seer's response is grave. He can also sometimes see into the future, he tells them, and he's seen their future. Although he doesn't know how, he's certain the the next time the group slides, upon arrival they will instantly die.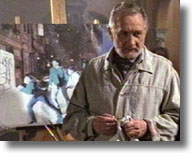 The last time Sliders was canceled, the story was left hanging. At least this time around the show's creators had some warning and were able to make a final episode that gives a little closure. But not a lot. This is no cozy ending that ties up all the threads unraveled over five seasons. Instead, this episode marks a transition for the sliders to a new phase of adventures. Their further exploits may never appear on TV, but hopefully can continue in novels, comics, and so on.
What makes this episode a must-see, besides the fact that it's the last one, is how it pokes fun at Sliders itself. The sliders watch a bit of a very popular TV show called The Sliders (which bears a familiar-looking logo), in which their lookalikes run along the very same back-lot set that has dominated the show's fifth season, shooting bad guys, dodging cars that explode for no reason, and sliding out at the last minute through an offstage wormhole. The group also meets a Sliders fan club and--in a wonderful tribute to real Sliders fans--it's the fans who ultimately help them overcome the forces that stand in their way.
There are fun moments, and many poignant ones as well. What the episode lacks, perhaps, is any real sense of danger. But the focus isn't peril. It's about difficult decisions involving risk and loyalty. The episode maintains that good old Sliders feel throughout--slightly campy but always sincere. The end of this series may disappoint people who'd like the story all wrapped up, but it definitely delivers strong drama--ending with a bang, not a whimper.
---
29 Jan 2000
Cleavant Derricks "Beginnings"

I have recently received my Cleavant Derricks new CD and wanted to post the cover of the CD online. This is a wonderful CD and I highly recommend that everyone purchase it. This CD can only be ordered through Amazon.com. To view the cover, click on the thumbnails below:
---
16 Jan 2000
In step with "Sabrina Lloyd"

The follow Sabrina Lloyd interview was taken from the Parade Magazine dated 16 Jan 2000. This page is fairly large, so please be patient while it loads :-):

---
28 Dec 1999
Jerry O'Connell's "Mission to Mars"

The follow article was taken from the latest Cinescape Jan/Feb 2000 magazine issue. Click on the
thumbnails below to view/read the article:
---
17 Dec 1999
'Sliders' Movie Talk
(Taken from the Cinescape Website)

Sliders co-creator Robert K. Weiss is sure sounding positive about the possibility of there being a Sliders theatrical movie in the future. According to the Earth Prime website, Weiss participated in an online chat with Sliders fans earlier in the month during which the subject of a rumored film was brought up. Regarding when a film might happen, Weiss revealed that he is hoping to get things rolling by late 2000-early 2001. He also is hoping to reunite the series original cast, something which may be hard to do with the career climbing Jerry O' Connell. As far as the possibility of the character of Arturo, played by John Rhys-Davies, appearing in the film, Weiss would only type in the following: "I'm not telling... :-)".
Weiss also revealed that he is currently "fashioning a story that would be satisfying to old and new fans." He adds, "One of the big issues I'm wrestling with... [We] must do exposition for those new to Sliders without boring those already familiar. The trick is to layer it appropriately so that exposition is interesting, then move forward with story." As far as adjustments that needed to be made bringing the series to the big screen from its last form, Weiss reveals, "I want to do some retrofitting for the movie."
Also, don't count on a film necessarily ending on Quinn and company all getting back home again. Weiss comments on this potentially happy ending saying, "I don't know about a "happy" ending, but it will be both satisfying and tantalizing vis a vis sequels."
You can read the whole chat by clicking here.
(Thanks to 'James Buckley' for the tip!)
---
05 Oct 1999
Sliders Movie???
Currently there is a rumour of a possible Sliders movie. The following was taken from the Dominion Bboards posted by Informant:
"I won't say who told me, but I have been given confirmation of sorts about a Sliders Movie! Well, nothing's set in stone yet, but someone who I'll call a source(!) told me that the letter we sent in has made Scifi interested in a Sliders movie. Now, big screen or tv is not known (Some cable networks to big screen... Mtv, Nick, and so on) But I was told that Robert K. Weiss was working on it. (I also got some more info, but that's not needed right now, though I'm thinking of using my new powers for good)

This info comes from a person higher than me, not as high as Tracy, but higher than most. And I have come to a conclusion that this is good info. (I kinda got proof without it being given to me)

So, unless things change, we can call this great news!!! The rumor is getting closer and closer to being official. This may or may not be announced when the final four are playing in January. (I'm not sure... I just got that feeling)"
This email reply was also posted by Informant on the Dominion:
"I wanted to do a feature even before the cancellation. The fan response is certainly a factor in pressing on."
Bob Weiss


Please write to addresses listed at SSN. The more people who write the better are chances are on getting this movie!!
Source: Dominion Bboard post #9421 and #9468
---
25 Aug 1999
Sabrina Lloyd Chat


A Sabrina Lloyd chat was held 24 Aug on the www.theglobe.com. To see the Sliders portion and the full version of the chat transcript, click here.


---
20 Jul 1999
Sci-fi Channel cancels Sliders :..-(

During a chat with TV Guide Online, Sliders stars Tembi Locke and Robert Floyd told fans that Sliders will not be renewed for a sixth season. SCI FI, which picked up Sliders after the show was canceled by Fox, confirmed that the series will be coming to an end.
According to a SCI FI spokesperson, the channel thinks highly of Sliders but feels the show has simply run its course. During its five-year run Sliders was canceled and resurrected twice, and the show also suffered the loss of four major cast members.
Most recently Locke and Floyd replaced Sliders mainstay actor Jerry O'Connell and his real-life brother Charlie, who played Quinn and Colin Mallory in the series. Many fans felt that move signalled an end to the show, since Jerry O'Connell has long been considered the heart of Sliders.

Source: Scifiwire
---
17 Jul 1999
Robert Floyd/Tembi Locke Chat


TV guide hosted a chat with Robert Floyd and Tembi Locke on Monday 19th July at 8p.m (EST).
See Transcript here!!
Thanks to TV Guide for the Transcript
---
( Back To Top)